By Joel Segal, Executive Director of NC Climate Solutions Coalition
What happens when you want the second fastest growing city in the country, Charlotte, NC, the headquarters of second largest fossil fuel utility in America, Duke Energy, to rapidly transition to 100% clean energy? And what happens when you also realize that Duke Energy's "clean energy plan" for the future is primarily based on fracked natural gas, coal, and nuclear, and that this powerful corporation wields significant influence on the decisions of elected officials?
Well, the answer is simple, you get organized! Because without critical mass, and real on-the-ground "people power," you can't pass progressive legislation – plain and simple. History teaches us that we must build a "fusion" and an intersectional and diverse grassroots political movement. As we did in our efforts with Moral Monday, we must build a movement that has broad appeal among various segments of the community in order to have critical mass and the moral authority needed to win. And you must work on the inside with progressive elected officials, as well as on the outside with the grassroots sector; this is the secret recipe for success.
From 2000-2013, I was one of the lead congressional staffers on Universal Health Care (Medicare For All Single Payer) and on the emergency response to Hurricane Katrina. Over the years, I had the privilege to learn from legendary social justice activists, labor leaders, and elected officials who taught me how to build powerful and diverse progressive coalitions. These coalitions had had the political and strategic unity to win, regardless of various obstacles in the way. I had observed time and time again that in order to pass progressive legislation you had to build a "coalition of conscience" with dedicated, humble, fun and cooperative people who, combined, have the expertise and experience to work both "in the streets and in the suites."
In Charlotte, this involved meetings with several African-American, Hispanic, Jewish, Christian and Muslim faith leaders, progressive democrats, business leaders, artists, sustainable community advocates, former elected officials, 100% clean energy advocates, and social justice leaders in many different settings, in order to build support for a Charlotte 100% Clean Energy Resolution. Each person and organization had the opportunity to go over the first draft of the Resolution until consensus was reached on the final draft.
A delegation of community leaders then met with the head of the Charlotte City Council Environmental Committee, and the progressive Mayor of Charlotte and a leading 100% clean energy advocate, Mayor Jennifer Roberts, and asked them to introduce the legislation. The Resolution, which was led by then Mayor Jennifer Roberts, was almost passed, but was subsequently sent back to the newly elected Environmental Committee.
Our "100% Clean Renewable Energy and Green Jobs Coalition" worked closely with Members of the Environmental Subcommittee, and senior City of Charlotte environmental senior staffers, until we agreed on the language for the 100% Resolution. We had our disagreements, and they were quite intense at times, but we disagreed based on the science and physics on climate change, and in a civil and professional manner. Ultimately we reached consensus, without compromising the spirit and the intent of the original 100% Clean Energy Resolution.
On the night of this historic vote, we packed the Charlotte City Council Chambers with over 100 people, all of whom had bright signs that read "Green Energy." We also had several speakers representing the environmental, faith, health, and business communities who made the compelling case for 100% clean energy: more good paying jobs, cleaner air, and saving our planet from civilization threatening climate damage.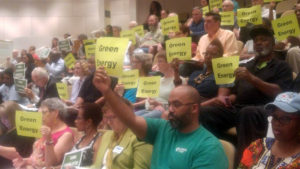 The result was the unanimous passage of a historic 100% Clean Energy Resolution by the Charlotte City Council, which declared that Charlotte by 2030 would use non-carbon-based energy in the public transportation and buildings sectors. We, the stakeholders, made it very clear during our presentations in support of the Resolution that we wanted energy used by the City to be sourced from solar and wind energy – not gas, coal, or any new nuclear energy,
The Charlotte, NC 100% Clean Renewable Energy and Green Jobs Coalition – now known as the Charlotte Climate Leaders – will not stop meeting, growing, and organizing until the City of Charlotte, and the State of North Carolina, rapidly transitions to 100% clean energy and creates scores of clean energy jobs.
Our next challenge is to pass the Strategic Energy Action Plan, (SEAP) in the Charlotte City Council, which should be passed very soon—so we can begin the actual process of transitioning to 100% clean, renewable energy in Charlotte, NC. We made history! Deep systemic change is a marathon, not a sprint. But the clock is ticking on climate change, and we must transition to 100% clean renewable energy now! We made the seemingly impossible possible, and so can your community.
Joel Segal is the Executive Director of the North Carolina Climate Solutions Coalition, and the National Director of the Justice Action Mobilization Network, Joel. [email protected], 571 344-1518